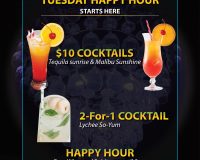 🍹🌙 Tuesday Night Delight! 🌙🍹
👨‍🍳 Join us at Lustre Bar for an unforgettable Tuesday night filled with tempting libations and good times!
🔥🍸 Our exclusive Cocktail Specials are crafted with you in mind – unbeatable deals that won't break the bank! 🤩🤑 Sip on your favorite classics or dive into daring new creations!
🎵🕺 Unwind, socialize, and share laughs with friends and colleagues in our vibrant atmosphere.